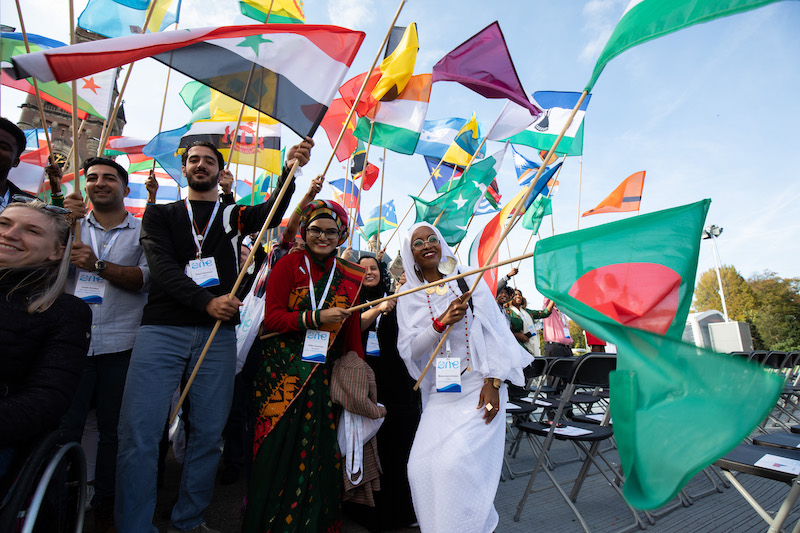 The annual One Young World Summit convenes the brightest young talent from every country and sector, working to accelerate social impact. Delegates from 190+ countries are counselled by influential political, business and humanitarian leaders such as Justin Trudeau, Paul Polman and Meghan Markle, amongst many other global figures.
Delegates participate in four transformative days of speeches, panels, networking and workshops. All delegates have the opportunity to apply to give keynote speeches, sharing a platform with world leaders with the world's media in attendance. As well as listening to keynote speakers, delegates have the opportunity to challenge world leaders, interact and be mentored by influencers. Delegates make lasting connections throughout the Summit, celebrating their participation at social events and the unforgettable Opening and Closing Ceremonies.
The Summit will take place from 14-17 October 2020, where over 1,800 young leaders from 190+ countries will gather across the city's well-known venues, including Olympiapark, Olympiahalle, and BMW Welt.
WHO CAN ATTEND?
One Young World strives to identify the most impactful young leaders from every country in the world. Many One Young World delegates are top performing professionals, sent to attend the Summit by forward thinking managers who see the need for talent development. Scholarships provide the opportunity for exceptional young people to attend on the merit of their proven leadership and ability to create change in their home country.
SCHOLARSHIPS TO ATTEND THE PROGRAMME
A range of scholarships are available to enable individuals who are not supported by partners to participate in the Summit.
LEADING ASIA SCHOLARSHIP 2020
Leading Asia is an initiative designed to ensure that outstanding young people from Asia are represented at the One Young World Summit 2020 in Munich.
WHAT DOES LEADING ASIA SCHOLARSHIP SPONSORSHIP PAY FOR?
Access to the One Young World Summit 2020 in Munich, Germany.
Hotel accommodation on a shared basis between 14 October and 17 October 2020.
Catering which includes breakfast, lunch and dinner.
Transport between the Summit accommodation and the Summit venue.
Summit hand-outs and support materials.
The cost of travel to and from Munich. Your flight to and from Munich must depart from and return to one and the same international airport.
ARE YOU ELIGIBLE?
You are eligible for Leading Asia sponsorship if you can answer 'yes' to the following questions:
Are you over 18?
Have an evidenced commitment to delivering positive change
Demonstrate capacity for leadership
Are addressing key local and/or global issues in your work
Have a track record of generating impactful and innovative ideas
Are a national (passport holding citizen) of one of the countries listed on the website (includes India)
Young Health Programme (YHP)
Through the Young Health Programme (YHP), AstraZeneca works to engage and empower young people with information so that they can make healthy choices today that will lead to better health later in life. Youth are at the heart of YHP's activities providing young people with a powerful voice in identifying their own health needs as well as planning and delivering solutions.
This year, AstraZeneca is collaborating with One Young World to offer 21 scholarships to inspiring young leaders to attend the One Young World Summit 2020 in Munich, Germany. In addition to attending the Summit, YHP scholars will participate in a pre-Summit skills-building workshop to meet the delegation, share information about their background and get prepared for what will be an incredible experience in Munich.
WHAT DOES THE SCHOLARSHIP PROVIDE?
Access to the One Young World Summit 2020 in Munich.
Access to an exclusive Youth Health Programme pre-Summit workshop.
Hotel accommodation in Munich on a shared basis between 12 and 17 (inclusive) October, 2020.
Return air or rail travel for scholars living outside of Germany.
Catering which includes breakfast, lunch and dinner between 12 and 17 October.
Ground transportation between Summit venues in Munich.
Discretionary funds to cover reasonable out of pocket expenses connected with getting to and from the Summit. These can be claimed by Scholars after the Summit.
Reimbursement of Schengen visa application fee (if applicable).
Reimbursement of reasonable out of pocket expenses connected with travelling to and from the Summit.
Reimbursement of Schengen visa application fee (if applicable).
Please note that scholars will be required to pay the visa application and insurance fees themselves. They will then be able to apply for a reimbursment from One Young World. Expenses will be reimbursed within three months of the Summit.
WHO SHOULD APPLY?
This scholarship is intended for young leaders who are aged 18 - 30 and are able to demonstrate:
Evidenced commitment to addressing health and wellbeing in a local, national or global community, with a specific focus on child and adolescent health and/or disease prevention and/or social determinants of health programming.
Leadership ability in championing and galvanising stakeholders around their chosen cause or issue.
A capacity for innovation and problem solving that is entrepreneurial and values-driven.
Concern for local and global issues.
Experience of working towards a shared goal through teamwork and collaboration.
APPLICATION DEADLINE: 27 MARCH 2020
The scholarships details are available under Scholarships link