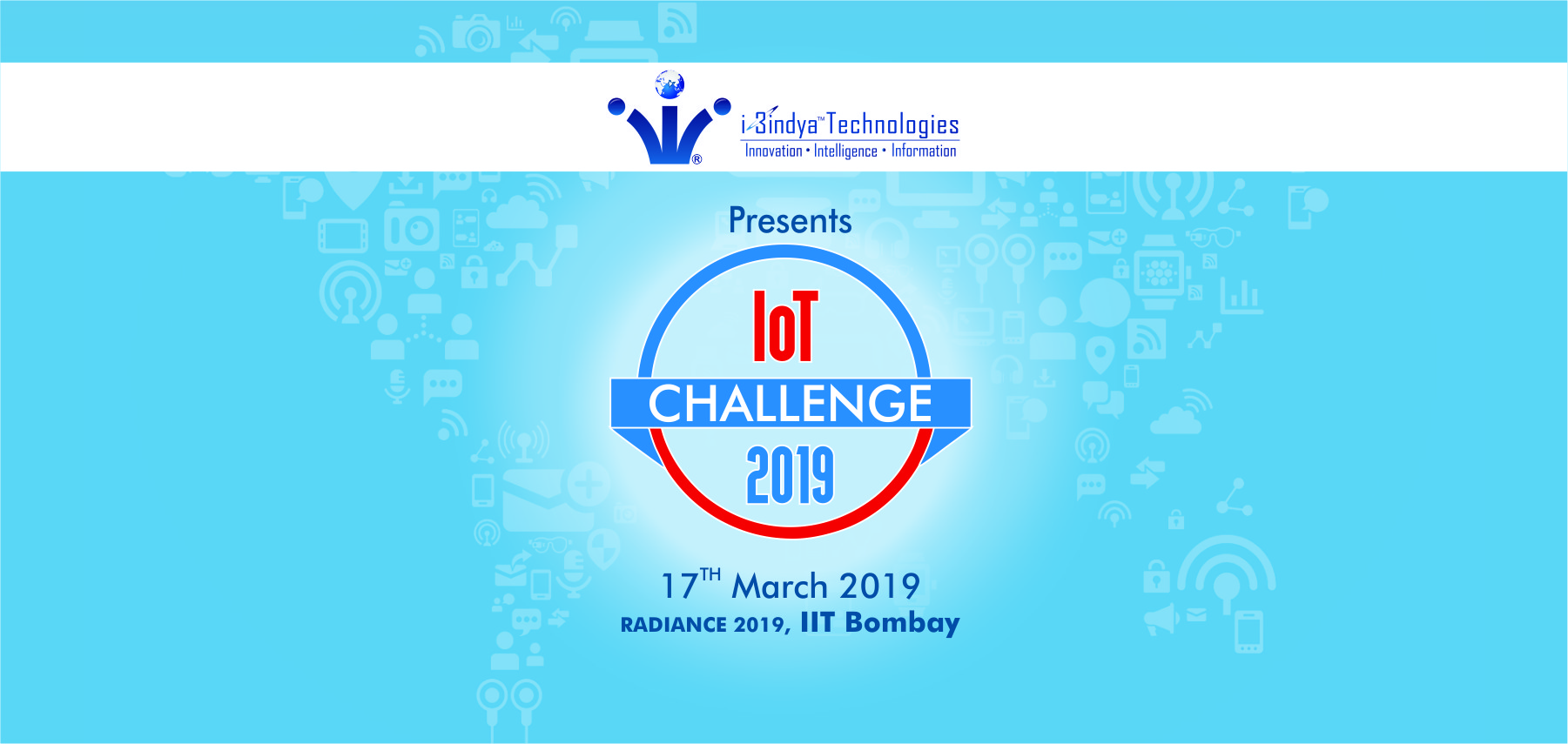 IoT Challenge 2019 is an Event based on IoT (Internet of Things), which will be held at RADIANCE 2019 IIT Bombay on 17th March 2019.
India's 3rd National Level Earlier held in 2016 with a participation of more than 6,000 students from 25+ Colleges. IoT Challenge 2019 to be held in different cities of India with a min. participation of 100-200 students at each city
Before the finale round of IoT Challenge 2019, it's Prelims Round will be conducted at different Zonal Centers/Colleges of India.
The Total Event is divided into 4 Rounds:
ROUND 1 (WORKSHOP AT ZONAL CENTER):
To participate in IoT Challenge 2019, students will firstly register at any Zonal Center across India
Attend 2 Days Workshop (by i3indya Technologies) at the Zonal Centers
Kits will be given for practice purpose to each team of 4 participants
The duration of workshop will be of 10-12 Hrs
Problem Statement would be given at the end of workshop
ROUND 2 (PRELIMS AT ZONAL CENTER):
At the end of workshop, each team of participants have to perform the task as per the Problem statement shared
5 Teams will be Qualified for the Next Round
Each team will have 4 participants
Problem statement for Next Round will be shared with shortlisted teams
ROUND 3
Selected Teams will have to submit their solution in a detailed written form via email within 3 Days to IoT Challenge 2019 Team. The teams whose solutions are innovative and feasible will be selected for the final round
3 TOP SHORTLISTED TEAM will be invited for the FINALE ROUND of "IoT Challenge 2019" to be held at Radiance 2019, IIT Bombay.
ROUND 4 (FINALES @ RADIANCE 2019, IIT BOMBAY):
Shortlisted Teams from all Zonal Centers will meet at the final round of IoT Challenge 2019 at Radiance 2019, IIT Bombay on 17th March 2019.
The selected teams will present their prototypes before a panel of expert judges.
Prizes worth upto Rs 1 Lakh to be won.
How to Participate
Participation process is divided into four simple steps
STEP 1 Select any Zonal Center from the below List and Register Online.
STEP 2 Get a Unique ID and confirmation mail at your email ID.
STEP 3 Show the Screenshot of confirmation mail and Unique ID at the Registration Desk of Zonal Center
STEP 4 Attend workshop and get direct entry to the Prelims round on the 2nd day of workshop
Registration Fees is Rs 600/- per head
You can register as an Individual OR in a Group of 2-4 members
A team of 4 members can be made before Registration OR we will make your group on the day of Event Students will learn Practically about Internet of Things (IoT) in 2 Days Workshop
Every Participants / Organiser will receive Certificate of Participation from Radiance '19 IIT Bombay and i3indya Technologies
Prelims Competition would be based on what students will learn Practically in workshop (Tasks would be given to perform)
One (1) IoT kit would be given to group of 4 students during workshop and Prelims Round for Practise purpose only
Only Online Registration is valid to participate in the event and NO on-spot registrations would be entertained