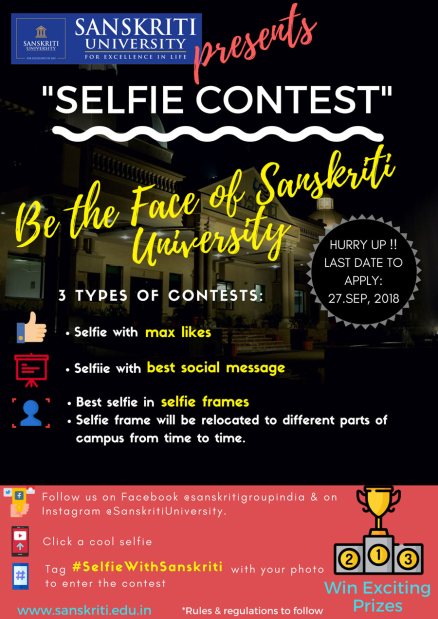 #SELFIEWITHSANSKRITI #SANSKRITIUNIVERSITY
Become the face of Sanskriti University for 2018.
Send your best self-portraits for a chance to win exciting prizes.
By entering the competition, all entrants will be deemed to have accepted and agreed to be bound by these terms and conditions. All entry instructions form part of these terms and conditions.
Eligibility:
The promotion is open to students studying in Sanskriti University, Mathura only.
All entries must include the selfie photo frame which would keep on travelling at different parts of campus and should include the hashtag #SelfieWithSanskriti
All entries must be submitted by midnight of 27, September, 2018.
How to Enter:
To enter the competition: Follow the Sanskriti University official page on Facebook & Instagram.
Students can choose either 1 out of these 3 types of competition:
Students selfie with max likes.
Students selfie with best social message.
Students with best selfie in selfie frames located at different part of campus.
Post the selfie to Facebook or Instagram and include the hashtag #SelfieWithSanskriti to participate.
Employees or representatives (or anyone who has any relation or is a partner or an agent) of Sanskriti University are not allowed to participate in the Contest.
Winner Selection and Notification:
Subject to the contest rules, three (3) participants with the most number of likes and shares on their selfie would be declared as winners of the contest.
Winners will be declared on the official Facebook and Instagram page of Sanskriti University. Before receiving the prize, the winners agree to provide their full name to be published on Sanskriti University's website and social media.
If there are more than one selfies from the same participant which are among the top 3 selfies only 1 selfie would be considered for the award.
Prizes:
3 most liked and shared selfies will win the prizes.
Terms & Conditions:
This Contest is open only to
Students of Sanskriti University
Contest promotion will start from 1, September, 2018 ​and will end by 27, September, 2018.
Maximum selfies per participant is 3.
Any entry which is found to be obscene, offending and hurtful shall be rejected immediately. Appropriate action will be taken against the said participant.
Sanskriti University may in its absolute discretion curtail or extend the duration period, as it deems necessary without mentioning any reason.
The decision of Sanskriti University shall be final and the participants shall accept the decision as a binding one and shall in no event challenge the same.
Sanskriti University reserves its right to change/modify/or withdraw the contest without any prior notice of the same, at its sole discretion. The organizers reserve the right to modify the terms and conditions without any prior notice. The decision of the organizer and the auditors will be final and binding with regard to Program and prizes and no correspondence will be entertained in this regard.
Sanskriti University shall not be liable for any loss of prize due to any incorrect information provided by the winner.
Link to website