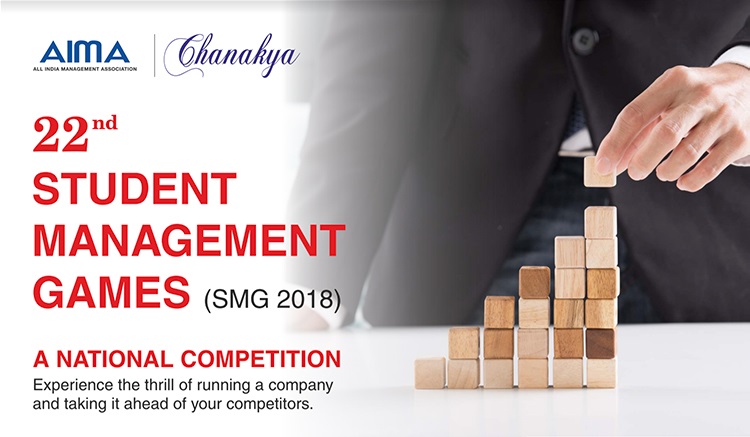 What is Business Management Simulation?
Management Simulation is a Computer based event that simulates a Business Scenario.It creates an opportunity for the participants to manage a business with multiple functional areas. They get to experience active competition and the perspective to handle it.They take strategic business decisions and see the impact through AIMA's indigenously developed software, 'CHANAKYA'. The essence of Management Simulation is ' Learning by Doing'.
Student Management Game is primarily a Simulation Programme that runs through industry based
Cases on manufacturing and service sectors .
This is an exercise that enables the participants to manage a real business in a simulated
environment where they go through the pains & gains of running a virtual company amidst competitive teams.
Students take strategic business decisions and see the impact through Financial, commercial,
market and inventory reports etc. The Philosophy of "learning by doing" is translated into reality
where two years MBA program iscompressed in two days.
Who can Participate?
A team of maximum of 3-4 members can be nominated by the Institution. Students of MBA, PGDM, Engineering, CFA and equivalent Professional programmes of any college or Institution can participate.
"An Institute may nominate any number of Teams restricting to maximum of Two Venues Only".
Prizes
1st Champion Trophy & Cash Prize of INR 40,000
2nd Runners Up I Trophy & Cash Prize of INR 30,000
3rd Runners Up II Trophy & Cash Prize of INR 20,000
Fees-
INR 5000 ( Per team )Upto two Teams
INR 4000 ( Per team )For Three or more teams
AIMA GST NO 07AAATA1644A1ZH, PAN No. AAATA1644 A
Participation Fee through Cheque / Demand Draft should be sent in favour of "All India Management Association", payable at New Delhi.
The fee paid is non-refundable / non adjustable, although participation by a subtitute team is allowed.
Regions
Prelim Rounds
Regions Finale
Address
Hyderabad
25 - 26 September
27 September
Shri Balaji Corporate office,
Chermas Building, 4th floor,
Malakpet, Hyderabad-500036
Cordinator: Swathi Raghu
Mob: 9959566029
Pune
04 - 05 October
06 October
International Institute of Management & Human Resource Development (Click here for brochure)
Survey No 54, Kasarsai Road,
Near Hinjewadi IT Park,
Pune, Maharashtra 411033
Cordinator: Tripti Sahu
Mob: 8007399009
Vadodara
23 - 24 October
25 October
Institute of Technology & Management Universe (ITM Universe)
Paldi , Halol Highway,
Near Jarod, Vadodara (Gujarat) – 391510,
New Delhi
30 - 31 October
1 November
SGT University
Chandu-Budhera, Gurugram-Badli Road,
Gurugram (Haryana) – 122505
Bangalore
15 - 16 November
17 November
-
Coimbatore
20 - 21 November
22 November
-
Grand National Finale, Coimbatore, 23rd November, 2018