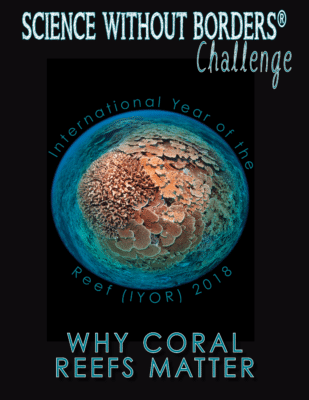 Khaled bin Sultan Living Oceans Foundation's Science without Borders® Challenge is an international art competition that engages students to promote the need to preserve, protect, and restore the world's oceans and aquatic resources.
The theme for the 2018 Science without Borders® Challenge is
"Why Coral Reefs Matter."

For this year's Challenge, use your imagination to create a piece of art that illustrates a made-up Reef SuperSpecies. A Reef SuperSpecies is an organism (plant or animal) that has found a way to adapt to a deadly threat facing coral reef ecosystems. You can make up an organism or base your organism off of an already existing reef organism.
The deadline is Monday, April 3, 208 by 11:59 pm
(Eastern Standard Time).
Eligibility
The SWB Challenge is open to primary and secondary school students 11-19 years old
Work will be judged in two categories, with 1st, 2nd, and 3rd place prizes awarded for each:
• 11 – 14 year-olds
• 15 – 19 year-olds
Prizes

Winners of the Science Without Borders® Challenge will be publicly announced. Prizes awarded to contestant winners are as follows:
1st Place: $500
2nd Place: $350
3rd Place: $200
Submission of Entries
Contestants must submit an Entry Forms with their submission. It is preferred that you submit your
forms online at www.lof.org/SWBChallenge. All fields on the Entry Forms must be filled out in order
to be considered for awards.
All original artwork should be mailed to:
Khaled bin Sultan Living Oceans Foundation
Science Without Borders® Challenge
130 Severn Avenue, Suite 100
Annapolis, MD 21403
USA
All participants under the age of 13 must have a parent or guardian fill out the
COPPA Notice Form
and mail it in with your artwork.
For further information click here