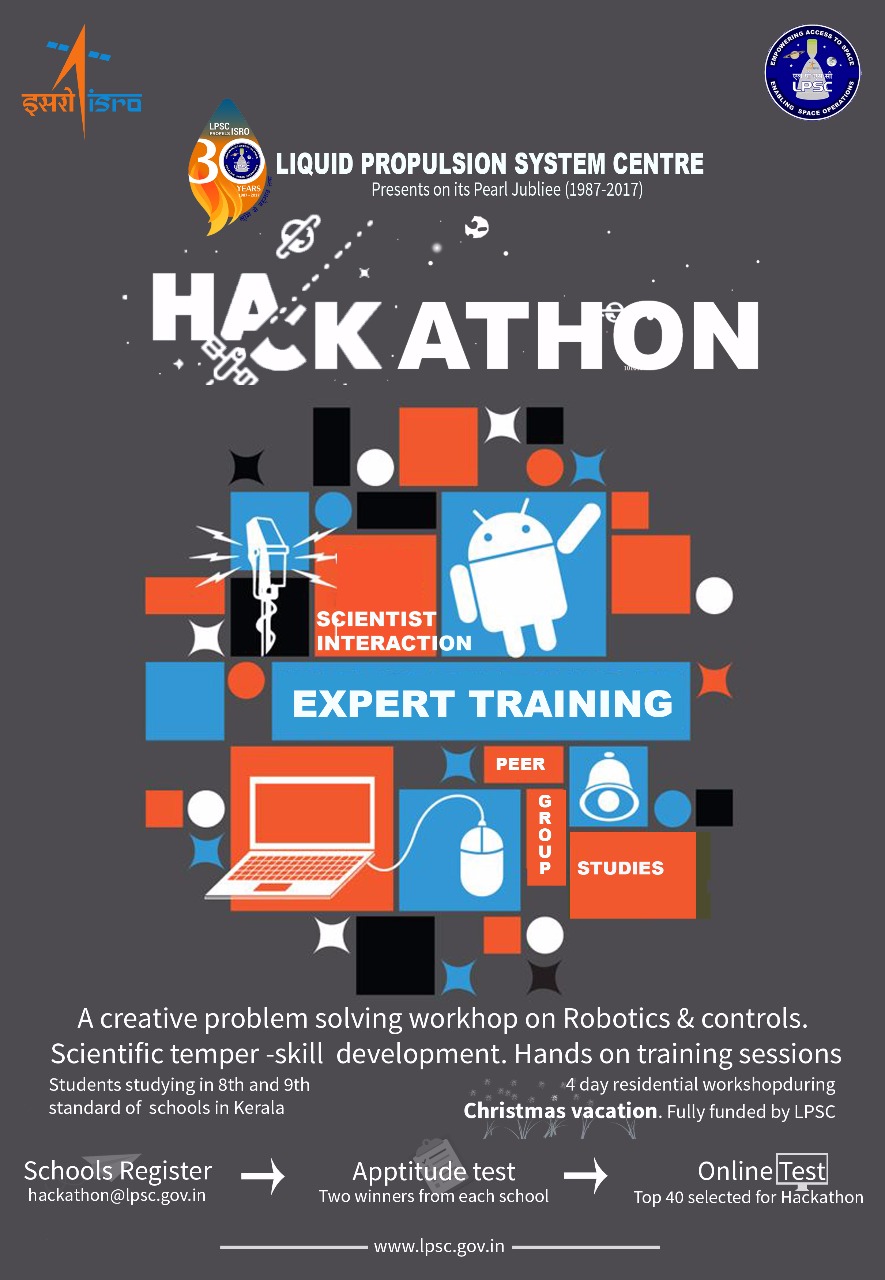 A Hackathon is a gathering of programmers who collaboratively code to solve a specific problem set in an extreme manner over a short period of time. Hackathons lasts for at least a few days - or over a weekend - and generally no longer than a week. While working on a particular project, the idea is for each developer to have the ability and freedom to work on whatever he/she wants. Here the target audience is selected to be students of 8th and 9th standards. The Hackathon is primarily to train the students in aspects of programming using the popular Arduino and Raspberry Pi boards so as to give them a feel of control applications related to robotics, automation and internet of things. It is a residential program of 4 day consisting of three day training by eminent faculties and 1 day problem solving/project work.LPSC reserves all rights to modify the program.
Who can participate?
Students of 8th and 9th standard of schools in Kerala can participate. The primary application for participation should be done by schools through their principal.
How to Apply?
The schools interested in participating this contest needs to register by email to hackathon@lpsc.gov.in
with details as below. The entries will be accepted till 11.59pm on 24th Nov, 2017.
Name Of School :
Place :
Email iD :
Contact number of school :
Contact number of Principal :
WhatsApp number of the Teacher in charge for this program. :
Selection of Candidates
The schools are required to conduct a brief screening exam for interested students of 8th and 9th class. Question papers and keys will be provided by LPSC. This should be evaluated to find out two students who are eligible for the second round on-line exam. The photographs of the written exam and the details of the successful students should be emailed. Those two students are required to appear for the second round on-line exam, conducted by LPSC. More detasils will be announced later.
Hackathon Days
The Hackathon is planned to be conducted in the last week of December 2017 during the Christmas holidays. This is a fully residential program. This is a fully sponsored program by LPSC. The venue is at Thiruvananthapuram set by LPSC. These days are not only filled with technical stuff to ignite these budding minds, but also has eminent scientist interactions and visits. The participants will be awarded with Exciting prizes and Certificates.
Last Date: 24 November 2017