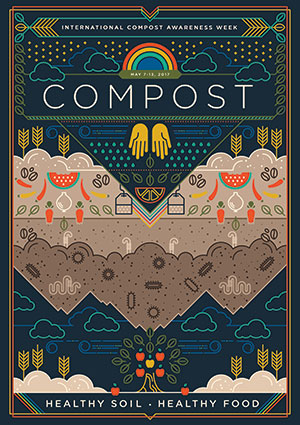 The International Compost Awareness Week Committee invites YOU to get involved in ICAW 2019. ICAW is looking for anyone interested in participating in our 17th Annual Poster Contest. The winning poster will be used to promote International Compost Awareness Week, May 5 -11, 2019.
POSTER THEME:
Cool the Climate – Compost!
The contest runs from September 1 until November 5, 2018
Eligibility
Contest is open to anyone who wishes to share their artistic creativity to promote this year's theme.
There are 3 contest divisions: grades 3-7, grades 8-12, and college – adult. The best from each division will be entered into the final contest.
There is NO ENTRY FEE
The winning poster will serve as the promotional piece to share nationwide the 2019 International Compost Awareness Week theme.
The poster contest winner will have his/her poster reproduced and distributed to thousands nationwide. It will be the official 2019 International Compost Awareness Week poster and featured on the CCREF website as well as on the US Composting Council website too. The winning "poster artist" will have his/her name posted on the CCREF website and will be included on all print material and in any press releases in association with our annual ICAW celebration.
The successful poster winner will receive a $500 prize.