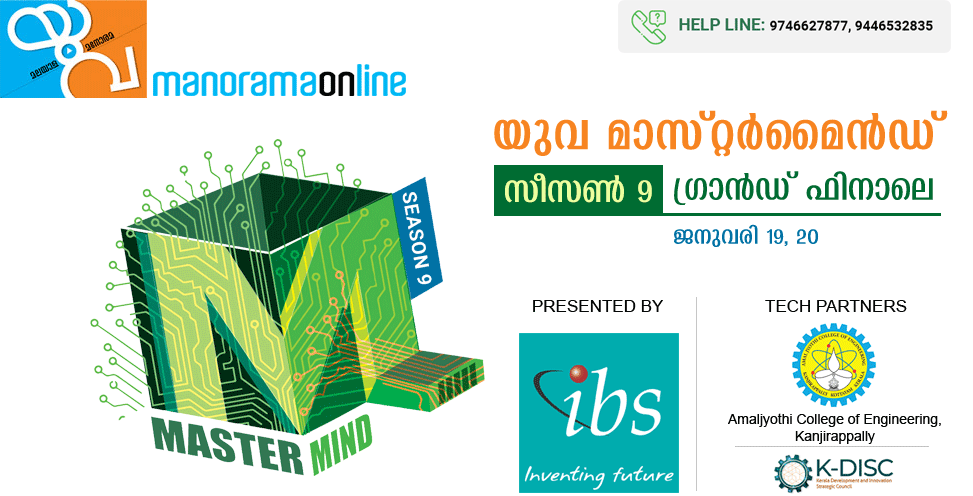 Registration commenced for Manorama-IBS Yuva Mastermind, the biggest technology project competition for Kerala students.
Any innovative idea in science/technology useful to the society that can be demonstrated by a working model can be submitted.
Who can participate ?
a.School level:
Students of 9th, 10th, 11th and 12th standard, studying in any school in Kerala, irrespective of medium or curriculum.
b. College level:
Students of Engineering Colleges/Polytechnics/Science and Arts Colleges /ITI/ITC/Professional institutions or any other institutes from Govt/Aided/Self financing sectors.
A project team can have maximum of 5 students. They can be from different classes in the same school/college.
There is no registration fee.
Prizes
College Level
First : INR 200, 000
Second : INR 100, 000
Third : INR 75, 000
School Level
First : INR 100, 000
Second : INR 75, 000
Third : INR 50, 000
The projects selected for the final round will get financial assistance for completing the project
Topics for Project
School Level: Ways to get rid of mosquitoes : Practical and scientific ways to get rid of mosquitoes
College Level: Cyber safetly: Develop cyber safety tools
For registration complete details not necessary. You have to furnish the following information for registration now.
1. Title of the project
2. Name and address of institution with email id and phone
3. Name and address of the guide and team members
4. A brief description of the project
5. Approximate expenditure for the project
Any one working in your parent institution who can guide and support the project team.
For registration: 04828 305626, 9633191231, 9746627877
(On office days 10am to 5pm)
Postal Address
Yuva Master Mind - 8
Editorial
Malayala Manorama
PB No. 26
Kottayam - 1
Email: mastermind@amaljyothi.ac.in
Last Date: September 15 2018
For further information and online registration visit
http://www.yuvamastermind.in/
http://specials.manoramaonline.com/Yuva/2017/yuva-mastermind/index.html