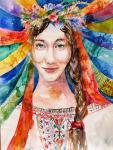 Institution for Creative Development of Young People in Celje, Slovenia invites children and young people to participate in the XXIst International Competition for Young Artistic Talents "Smell Of Paint".
The term of work submission till May 15, 2017
The theme
ETHNOLOGICAL DRESSES AND FOLKLORE DANCES OF MY PEOPLE
Who are my people and what kind of cultural legacy have I inherited? What do we want to preserve for our future generations? The identity of my people.
Select the best, select something what represents your people for centuries, ethnological dresses and folklore dance of your nation. On the reverse side write down the name of the dress, dance, era in which it was important for your people and maybe also write down at what occasions dress was used, dances were preformed
Awards
- 50 best art works from each age group will be awarded with unique prizes,
- the best three authors from each age group will be awarded also with special gifts,
- mentors who will have one awardee awarded with first prize or two or more with unique prize will also be awarded with an unique prize and
- the participating istitutions receive an award for promoting artistic culture of young people
- The awards will be sent out by e-mail in JPG format and will only need to be printed
Categories
1st group: up to 10 years,
2nd group: from 11-15 years,
3rd group: from 16 - 20 years
All techniques on a paper are allowed. Art works should not exceed 30x42cm.
Last date: 15.05.2017
Click here for more information