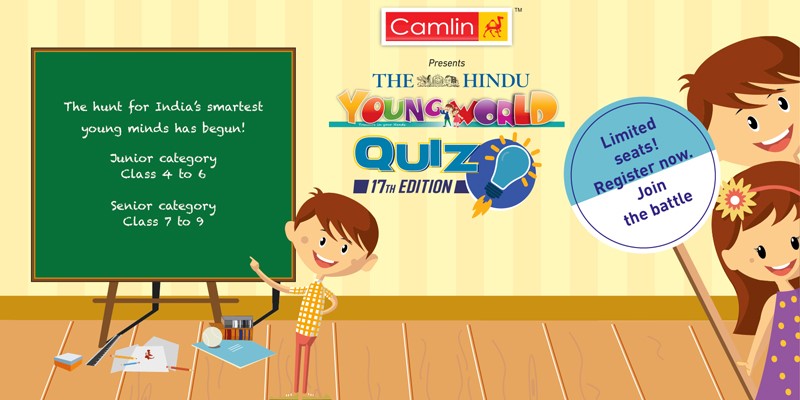 The much awaited annual event, the hunt for India's smartest young minds has begun! The 17th Edition of The Hindu Young World Quiz Competition is all set to challenge the wizards of your school.
This multi-city, mega quiz, one of the largest in the country is being conducted in many cities across India namely Chennai,New Delhi,Mumbai,Hyderabad,Kochi,Thiruvananthapuram,Coimbatore, Madurai, Bengalaru, Vizag and Vijayawada.
The quiz contest will have two categories: Juniors (IV – VI Std) and Seniors (VII – IX Std).
Juniors (IV – VI Std) & Seniors (VII – IX Std) : Coimbatore, Madurai, Bengaluru, Hyderabad, Vizag, Vijayawada, Thiruvananthapuram, Kochi, Chennai, Delhi, Kolkata, Mumbai
Only Seniors (VII – IX Std) : Trichy, Mangaluru, Hubbali, Kozhikode, Salem
Eligibility
Any 2 students can form a team.
The schools can send any number of teams in the category.
Team should consists of 2 students of same category and same school
Entry fee per team is Rs. 200/- only ( Rs 100/- Per Member)
The quiz would be two-tiered: Common written preliminaries and an on-stage Final for the Top 6 teams, a maximum of 2 teams from a school is permitted. (based on the marks scored in the prelims).
How to Register and Participate:
Registration can be done by paying cash or cheque at The Hindu offices.
Spot registration can be done on the day of the event at the venue.
Registrations may be done online at
http://www.thehindu.com/ywquiz
.
Certificates will be given to all the participants and lots of prizes for audience
Venues and Dates at different cities
BANGALORE
Venue
Ambedkar Bhavan, Millers Road, Vasanth Nagar, Next to Jain hospital, Bengaluru 560 052
Registration Closes on: 25th Jan, 2017
Juniors
10.00 a.m. on 27th Jan, 2017
Seniors
2.00 p.m. on 27th Jan, 2017
COIMBATORE
S.N.R. Auditorium, S.N.R. Sons College, SNR College Road, Coimbatore 641 006
Registration Closes on: 5th Feb, 2017
Juniors
10.00 p.m. on 7th Feb, 2017
Seniors
2.00 p.m. on 7th Feb, 2017
HUBBALLI
Samskruthika Bhavan,New Cotton Market, Besides Traffic Police Station, Hubballi
Registration Closes on:30th Jan, 2017
Seniors
2.00 p.m. on 1st Feb, 2017
HYDERABAD
Sundarayya Vignana Kendram, 1-8-1/B/25/A, Baghkingampally, Hyderabad 500044
Registration Closes on:13th Feb, 2017
Juniors
10.00 a.m. on 15th Feb, 2017
Seniors
2.00 p.m. on 15th Feb, 2017
KOZHIKODE
Venue
The Gateway Hotel,Beach Road, P.T.Usha Road, Calicut ? 673032
Registration Closes on: 4th Feb, 2017
Seniors
2.00 p.m. on 6th Feb, 2017
KOCHI
Venue
Abad Nucleus Mall, NH 49,Maradu, Poonithura, Maradu, Kerala -682304
Registration Closes on:
26th Jan, 2017
Juniors
10.00 a.m. on 28th Jan, 2017
Seniors
2.00 p.m. on 28th Jan, 2017
MADURAI
Thiagarajar College, 139-140, Kamarajar Salai, Teppakulam, Madurai 625 009
Registration Closes on: 8th Feb, 2017
Juniors
10.00 a.m. on 10th Feb, 2017
Seniors
2.00 p.m. on 10th Feb, 2017
MANGALORE
Sri Sudheendra Auditorium, Canara Girls High School, Dongerakeri, Mangaluru-575003
Registration Closes on: 29th Jan, 2017
Seniors
2.00 p.m. on 31st Jan, 2017
SALEM
Periyar University, Periyar Palkalai Nagar, Salem-636011
Registration Closes on: 6th Feb, 2017
Seniors

2.00 p.m. on 8th Feb, 2017

TRIVANDRUM Venue

Hotel Uday Samudra, GV Raja Road, Samudra Beach, Kovalam, Thiruvananthapuram 695 527

Registration Closes on:

9th Feb, 2017

Category

Time

Juniors

10.00 a.m. on 11th Feb, 2017

Seniors

2.00 p.m. on 11th Feb, 2017
VIJAYAWADA
Venue

Siddhartha Academy Auditorium,"Siddhartha Nagar Vijayawada 520010

Registration Closes on:

14th Feb, 2017

Category

Time

Juniors

10.00 a.m. on 16th Feb, 2017

Seniors

2.00 p.m. on 16th Feb, 2017

VIZAG Venue

Kalabharathi Auditorium,Pithapuram Colony Rd, Maddilapalem, Visakhapatnam 530 003

Registration Closes on:

18th Feb, 2017

Category

Time

Juniors

10.00 a.m. on 20th Feb, 2017

Seniors

2.00 p.m. on 20th Feb, 2017

Click here for practice quizzes