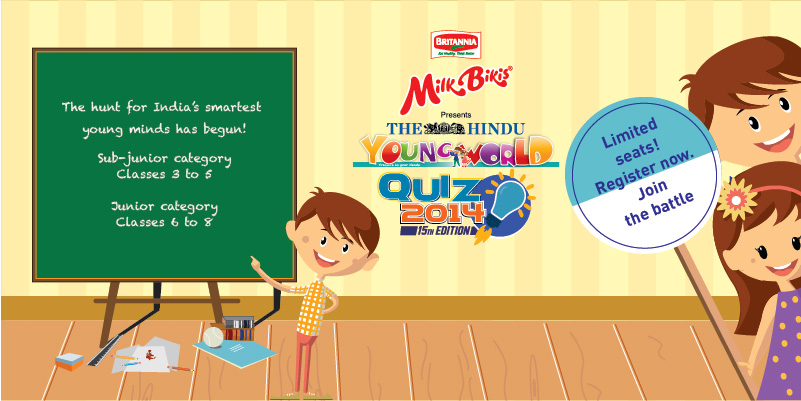 The 2014 edition marks the 15th anniversary of the popular The Hindu Young World Quiz, one of
the longest-running and largest live school quizzes. The quiz would be hosted as always by The Hindu's resident quizmaster V.V. Ramanan.
The quiz contest will have two categories: Sub-Juniors (Classes 3 to 5) and Juniors (Classes 6 to 8).
The Sub-Junior quizzes would be held in 6 cities i.e. Chennai, Bengaluru, Hyderabad, Kochi, Coimbatore and Madurai.
The Junior quizzes would be conducted in 14 cities spread across the four southern States, namely Chennai, Coimbatore, Madurai, Tiruchi and Salem; Bengaluru, Mangaluru and Hubballi; Thiruvananthapuram, Kochi and Kozhikode; Hyderabad, Vijayawada and Visakhapatnam.
A team should consist of two members and any bona fide team from a school can take part by registering online and paying a non-refundable fee of Rs. 200 per team. The team members should be from the same school/branch. No cross teams allowed.
The registration would have to be completed on or before the cut-off date indicated.
The quiz would be two-tiered: Common written preliminaries and an on-stage Final for the Top 6 teams (based on the marks scored in the prelims).
The winner at a particular centre will receive a trophy, a bicycle and a certificate. The first and second runners-up would receive a trophy and certificate. The other finalists and audience are eligible for other prizes and goodies.
All participants will receive a Goodie Bag and certificates.
CHENNAI
Venue
Registration Closes on
Kamaraj Memorial Hall
Teynampet, Chennai
19th Jan
| Category | Time |
| --- | --- |
| Sub-Junior | 10.00 a.m. on 21st Jan |
| Junior | 2.00 p.m. on 21st Jan |
COIMBATORE
Venue
Registration Closes on
Corporation Auditorium
R.S. Puram, Coimbatore
5th Jan
| Category | Time |
| --- | --- |
| Sub-Junior | 10.00 a.m. on 7th Jan |
| Junior | 2.00 p.m. on 7th Jan |
KOCHI
Venue
Registration Closes on
A J Hall
Kaloor Kadavanthara Road, Kaloor, Kochi 682017
10th Dec
| Category | Time |
| --- | --- |
| Sub-Junior | 10.00 a.m. on 12th Dec |
| Junior | 2.00 p.m. on 12th Dec |
KOZHIKODE
| Venue | Registration Closes on |
| --- | --- |
| Devagiri CMIPublic School, Medical College P.O. Kozhikode 673008 | 11th Dec |
| Category | Time |
| --- | --- |
| Junior | 2.00 p.m. on 13th Dec |
MADURAI
Venue
Registration Closes on
Thiyagarajar College
139-140, Kamarajar Salai, Madurai 625002
3rd Jan
| Category | Time |
| --- | --- |
| Sub-Junior | 10.00 a.m. on 5th Jan |
| Junior | 2.00 p.m. on 5th Jan |
SALEM
Venue
Registration Closes on
Sona College of Technology
Junction Road, Salem
6th Jan
| Category | Time |
| --- | --- |
| Junior | 2.00 p.m. on 8th Jan |
TRIVANDRUM
Venue
Registration Closes on
Saraswathi Vidyalaya
Vattiyurkkavu, Trivandrum
9th Dec
| Category | Time |
| --- | --- |
| Junior | 11.00 a.m. on 11th Dec |
TRICHY
Venue
Registration Closes on
BHEL MD Hall
BHEL Campus, Near BHEL Training Centre, Trichy 620014
4th Jan
| Category | Time |
| --- | --- |
| Junior | 2.00 p.m. on 6th Jan |
VIJAYAWADA
Venue
Registration Closes on
Siddartha Auditorium
Siddartha Academy Premises,Siddartha Nagar, Mogalrajapuram, Vijayawada 520010
7th Dec
| Category | Time |
| --- | --- |
| Junior | 2.00 p.m. on 9th Dec |
VISHAKAPATNAM
Venue
Registration Closes on
Kalabharathi Auditorium
Visakha Music & Dance AcademyNo.40, Pithapuram Colony, Visakhapatnam-530003
4th Dec
| Category | Time |
| --- | --- |
| Junior | 9.30 a.m. on 6th Dec |
Deatiled venue and schedules