Search is On for India's Top Talent in MS OFFICE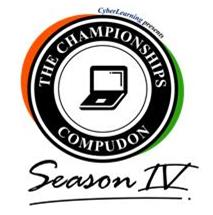 COMPUDON – the gateway to the Microsoft Office Specialist World Championship - is a platform for
Indian students to showcase their mastery in using Microsoft Office applications.
Eligible students from across India will compete for the title of "India Champions", and up to 6 winners will then, proudly represent India at the "Microsoft Office Specialist World Championship" (fully sponsored trip by CyberLearning) in July 2014 at Disneyland, California, USA.
ELIGIBILITY:
Students between the age of 13 and 22 (as on June 15, 2014)
ELIGIBLE EXAM TRACKS:
MICROSOFT OFFICE SPECIALIST –
Word/Excel/PowerPoint (2007 or 2010 or 2013#)
#Office 2013 exams are not valid for MOS World Championship.
THERE ARE 2 LEVELS:
QUALIFYING LEVEL: Happens within the participating School.
INDIA FINALS: Qualifying students will appear for India Finals in NEW DELHI/NOIDA. Top students (top score and time) in each exam track will qualify as "India Champion". And India Champions with qualifying score and time will be selected for "India Team*" for MOS World Championship
Selection of winners will be on the basis of qualifying criteria established by CyberLearning and Certiport.
Participation Fee: Rs. 899/-
All Inclusive. Includes a 'Participation Kit' with prep material. Only for students participating through their school/college
AWARDS AND RECOGNITION
For 9 India Champions: Prizes worth Rs. 25,000, Medal, and Sponsored trip# to Disneyland, California, USA# for participation in the WORLD CHAMPIONSHIP
Other Prizes: Prizes worth Rs. 15,000 (for 1st runners-up), Rs. 10,000 (for 2nd runners-ups), Rs. 2,500 (for 45 regional champions) and Rs. 1,000 (50 consolation prizes).
Award medals for school toppers
Microsoft Certificates to all passing students and participation certificates to all participants.
For Faculty that produces India Champion, prize worth Rs. 5,000 & Appreciation Certificates to all participating / nominated faculty members.
For Schools - Office Champion Award Trophy who produce India Champions
For Schools- Association with Microsoft as Microsoft Office Specialist Authorized Testing Center
#Additional eligibility criteria apply. Please read official rules given on
www.compudon.in
for more details.